I'm being nice with that title. I was helping my daughter prepare for an upcoming state assessment (state to remain anonymous) and I was looking over the released items before giving it to her. I was dismayed at a number of items that were written in an attempt to be "real life" problems. Roll the highlight reel:
My daughter is ten years old and actually asked me what a roll of film was. I had to pause a bit and recall that all she knows is a digital camera. Let's get with the times and at least pick a context that students can relate to. Camera film is so 20th century!
The context of the problem makes no sense at all when you read the question: "Which of the following do all of these numbers have in common?" Why put the numbers on t-shirts? Why not put the numbers on NASCAR race cars and make some money from the corporate sponsors? Why not put the numbers on those little sweaters they put on dogs? Bottom line, what context do the shirts add to this problem? This question is better off putting them in boxes so as to separate them from each other so the kids don't think the number is 3012906024. The t-shirts add nothing to the problem and I don't think anything can.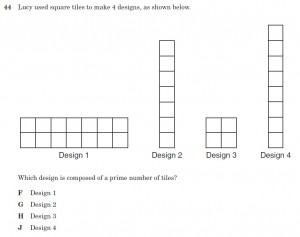 The question asks, "Which design is composed of a prime number of tiles?" Based on the question, I'm guessing that the question is testing whether or not the student knows what a prime number is. But one thing can get in the way of this item: what if the student counts incorrectly? The student could actually know what prime numbers are but if he/she counts incorrectly, then the question misses the mark as it is written. I could argue that design 3 is one square tile with just four little squares drawn into it. If the question wants to test if the student knows their prime numbers, then just write them. Why the tiles? This is like the t-shirt problem above.
Now to be fair, a good majority of the problems are well written and can accurately assess the standard it set out to assess. So why do I go on this rant in a blog about Common Core State Standards? The standards are one step in this wave of educational reform. A lot of teachers are holding their judgment of the CCSS until they see the actual assessment. I sure hope the items they use to measure a student's mastery of the standards will be well written and will actually match the standard.