If you're the kind of teacher I was, you may never have heard of ISTE—the International Society for Technology in Education. I'd never heard of them either. Every year, ISTE puts on a very large, well-organized, and international gathering of teachers, techies, and marketeers in a gadget, widget, and buzzword fiesta that is truly enjoyable to experience, as I did for the very first time this week down in sunny San Diego.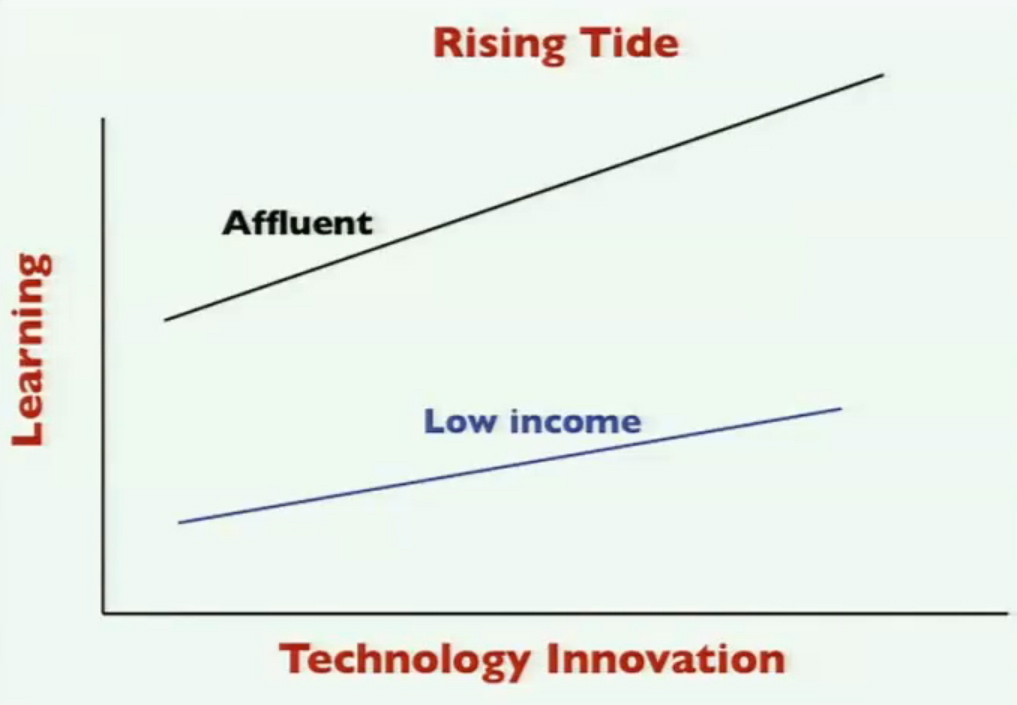 The talk that stood out for me was "Will Free Benefit the Rich? Fighting For Technology Equity" by Justin Reich, co-founder of EdTechResearcher. Unlike all of the previous speakers, who in one way or another expressed their excitement for the transformations happening in education as a result of technology innovations, he presented sobering data about the impact of technology innovation on social justice. As much as ISTE and their members would love to believe that technology is decreasing the gap between affluent and low income schools, Reich's research seems to show the opposite.
The table below shows the data Justin Reich presented in his talk. Affluent schools have fewer failed wikis, more student-owned wikis, and wikis with much longer lifetimes.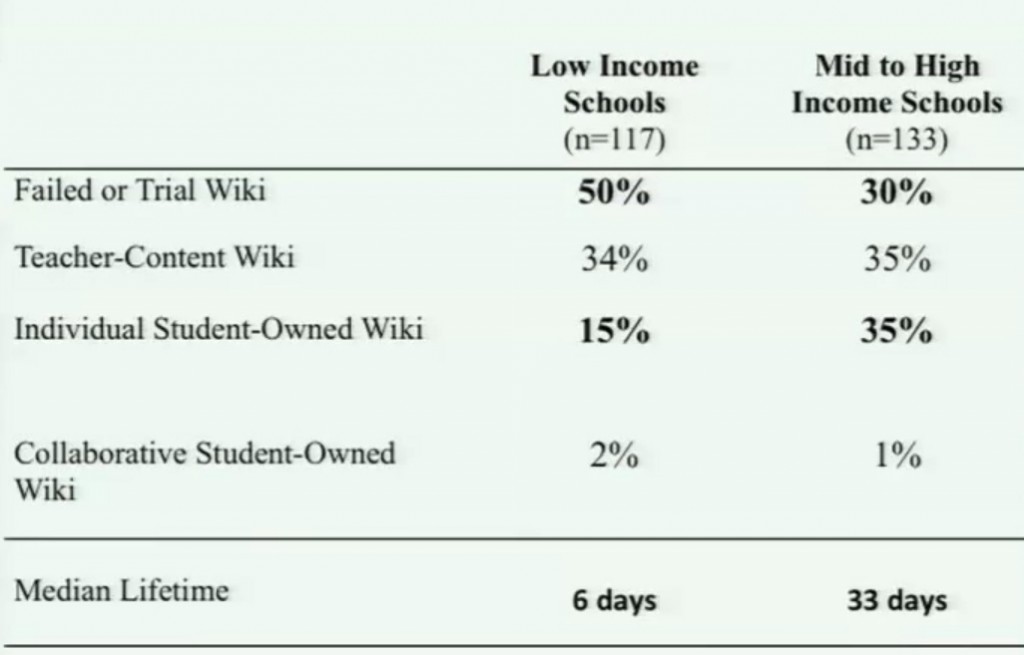 He also made this very insightful comment: Teachers in low-income schools who resist technology say that it would be unfair to focus on technology because within their schools students have unequal access to technology; teachers in the same schools who embrace technology say it would be unfair not to focus on technology because it would put their students at a greater competitive disadvantage to students in suburban schools.
The rest of the sessions and events I went to presented a somewhat 0verwhelming number of interesting new apps, websites, technologies, and ideas—of things that are already happening as well as things that can happen. I heard the words "dreamer," "visionary," and "innovator" regularly, and there was much buzz about "flipped classrooms." I did find the classroom teachers who described their use of technology—especially video recording and editing as a tool for student expression and creation—to be authentically inspiring.
At the same time, the conference created a great deal of cognitive dissonance for me, because of my own experiences in the classroom and those of my friends and relatives who are still teachers. This conference took place in California, a state where textbooks are still the norm, and where accountability toward standardized testing over the last decade has tightened the straps that bind teachers to their textbooks. A state with large districts that block YouTube because administrators still view the internet as a source of distraction from learning rather than an engine to drive it.
Back to that Ignite, another memorable presentation was "In Record Time: Disruptive Innovation To Say the Least" by Traci House, who is the Director of Technology of Joplin Schools. She describes how Joplin responded to the destruction of their community and schools by a tornado in May last year by reopening in the fall as a completely digital, 1-to-1 laptop school. They used the tragedy to rapidly transform to a school system that no longer uses books.
Given the recent news that digital books have just outsold print books for the first time, we've clearly reached the tipping point. Yet I still have a hard time seeing how California's public schools are going to make this inevitable shift, and I'm as concerned as ever that those who will benefit the most from the technological changes in education are primarily those who were already flourishing under the old system, creating an even wider chasm between rich and poor.