I often get asked the question when doing webinars, workshops, or professional development training, "
is there a quick way to do that
" with
Sketchpad
,
TinkerPlots
or
Fathom
? For example, last week we had a webinar on functions, and the question came up about whether Sketchpad had a quick way to plot inequalities, since it is relatively easy to plot an equation using Sketchpad's Graph menu. The short answer is no – there is not a quick way for inequalities. It involves using mathematical properties to construct the shaded regions of inequalities. Can it be done? 
Absolutely
. But you have to figure it out using mathematical properties and some advanced features of Sketchpad.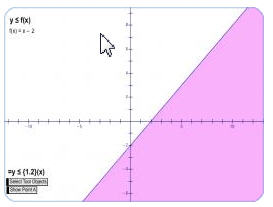 Another example is constructing things such as regular polygons. There's a quick way to construct general polygons, using the polygon tool, but to construct regular polygons, it requires knowing mathematical properties and using those to construct the regular polygons you desire. Figuring it out becomes the challenge. Using the math to create more math – that's where learning happens.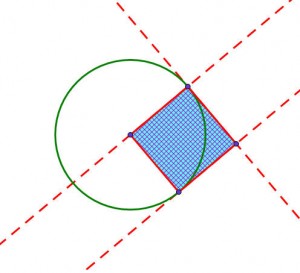 As an example of this, every year when I was teaching geometry, my students were given the quadrilateral project with Sketchpad, instead of a test, where they were required to construct all the special quadrilaterals and make custom tools. It required knowing their properties and figuring out how to use those properties and many of the menus, such as Construct or Transform, to construct and create each custom quadrilateral tool. It required figuring it out. Every year I was blown away by their creativity and the math my students knew and demonstrated.
Similar questions come up about TinkerPlots and Fathom. Why can't you just tell TinkerPlots to make a bar graph? How do you quickly find the equation for the line of best fit in Fathom? While these things can be done, a quick way is NOT the best way. Figuring it out is where the learning occurs. Dragging and moving data to discover relationships and maybe determine that a bar graph is, in fact, NOT the best graph, is way more powerful than clicking a button and making a bar graph.
Back to my beginning example about plotting inequalities. In the webinar evaluation, it was suggested that the next version of Sketchpad have that option – a quick way to plot inequalities.  My personal answer is no. Figure it out. Use math. The power of Sketchpad, and all our software is that they are NOT an app or program where you click a button and an answer appears – they are dynamic and require the use of mathematics to make something happen or answer a question. That's learning. That's building understanding.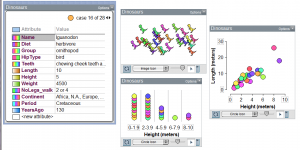 Granted, for all three of our software products, there are plethora of activities out there where someone has created a "prepared" sketch that can do these advanced things with the push of a button. But someone used math to create those features.  They started with a blank screen and used the power of dynamic mathematics and mathematical properties to figure things out. Shouldn't that be a goal for students as well?
I am not against prepared sketches and documents – they are vital when just starting out and helping teachers and students start using technology in a meaningful, content-focused way. I use them all the time in trainings as they are powerful, content-related activities to help teachers integrate dynamic mathematics. It's a great idea to start learning with some of our prepared sketches and documents, especially as a beginner. What I want to emphasize is try to move beyond those to constructing mathematics on your own. Don't always look for the quick way or button to make it easy. Take  learning math and using technology further than a magic box with all the answers at the click of  a button.  Don't be afraid of the blank screen and using math to create more math. Challenge yourself and your students to 'figure it out' – you will be amazed at the learning that happens.