My daughter went to senior orientation today, a sure sign summer is almost over. When I was in the classroom, I remember getting both sad and excited around this time. Sad because my holiday was coming to an end, but excited because I was revving up to start over and try some new things in the classroom. I usually spent my summers learning new tools, brushing up on skills, and reevaluating what I had done the previous year and deciding what to throw out or modify. I was, and still am, someone who does not like to do the same old thing, which was especially true when I was teaching in middle and high school. It was my summer challenge to try to come up with different ways to reach my students and bring new projects, games, hands-on tools, and of course, technology, into play in my classroom.
There are many schools that are adopting 1:1 programs, integrating the use of iPads in the classroom, or adopting new technology resources for instructional purposes. In these situations it can be a bit overwhelming knowing where to start.  How do you help your students learn to use and navigate technology in a way that is going to enhance learning when you yourself are still learning? With that in mind, I wanted to share a couple of things I did during my years in the classroom that helped introduce technology to my students at the beginning of the school year in a way that eased into appropriate use of the technology in instruction and learning. I am using Sketchpad to illlustrate my suggestions, but they can apply to any technology tool for whatever subject you teach.
1) Build in play time.
I used the first week of school to introduce technology in an informal, non-structured way. Play time was provided to learn what the new technology tools are and what they can do. This allowed students to explore and discover how the technology worked, gave me time to informally assess what they knew, let them learn from each other, and taught me a thing or two as well. It provided a non-structured, relaxed, playful learning experience that not only introduced technology but let the students get comfortable with me and the other students.
Let's face it, kids are tech savvy and they will pick up technology skills much faster than us—we should utilize this to our advantage. I tried to get a computer lab that first week of school to introduce Sketchpad (not many other teachers want the lab that first week). If that didn't work out, I used my projector and computer and let the students explore by giving them control of the mouse. If I had had an interactive whiteboard, I would have had groups of students up playing and the class watching and asking questions. The idea being, no matter what your resource options, to let students play with the tools and then pause periodically and ask students to share what they have discovered. A typical 'play' screen with Sketchpad is shown below: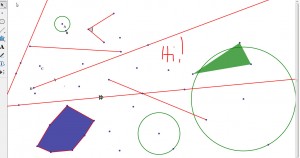 Some questions you might ask:
How many different straight objects does the straight edge tool make?  What are the differences?  Does anyone know what those different straight objects are called?
What kind of objects does the polygon tool make? What do you think a polygon is? What is the smallest polygon you were able to make?
Can anyone figure out how to measure a straight object?  Can you measure all the different types of straight objects? Why not?
Allowing students to play with a technology tool is important and helps get their curiosity satisfied so that when you are ready to use the technology to teach, they are more willing to listen. Play time is also important as you begin to use technology in more structured learning. Everybody, even adults, wants to play, so it's a good idea to build in play time even when you have a structured, focused lesson planned. I used to allow at least the last five minutes of class to 'play' (even when using hands-on manipulatives)—it helped eliminate distraction during class.
2) Start simple and scaffold learning.
The first time you use a new technology in a structured lesson, start small and simple. I usually started with a whole-class demonstration the first few times. This showed how to use the technology appropriately in class, was relatively short, and allowed me to focus on using the tool as a learning resource. The first time we went to the lab for an actual math lesson, I either used a premade sketch that students interacted with, learning some of the tools slowly while doing math, or used a fairly simple from-scratch activity using just a few of the tools.  The focus should always be on the content, with the tools of the technology introduced as needed for the lessons. As students learn and get comfortable with the technology, you can increase the required skills, but you should stay focused on the content you are teaching.
3) Don't be afraid to admit you don't know or to accept help from students.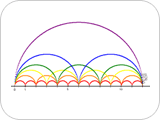 As I said already, students are very tech savvy. Chances are, after that initial play time, they are going to have figured out some things about the technology that you did not know. And that will continue. They are not afraid to explore and test and figure out 'what if'. Don't be embarrassed when a student corrects you or asks a question about how to do something—admit you don't know, ask them to help you figure it out, and move on. Students will get an answer or share things they discovered if you provide the environment that allows them to do so. This creates an open, collaborative classroom culture and lets students know that you are all in this together to learn. I found my students taught me new things about the technology and mathematics every year. We celebrated that. It empowers your students and often leads the learning in directions you may not have anticipated.
4) Don't give up. Perseverance really is a virtue.
Change is hard, introducing new things into your instructional repertoire is NOT easy, and integrating technology is not as simple as turning it on. I am going to just say this up front—you are going to fail at some point. It may not be the first time you try to use technology, it may not be the second, but it IS going to happen. Accept that, get over it, and then try again. This is why I suggest starting simple and small  and building on technology skills slowly.
Integrating technology effectively into instruction is not really about the technology—it's about wanting to provide the most appropriate tool to help students learn, and, in turn, being able to use the most appropriate strategies and classroom structures to achieve that learning. Class structure and questioning are as important as the tool itself—they all work together. Figuring out how is something that requires practice. Give yourself time, start slowly, and keep practicing. To quote a line from one of my favorite movies, Galaxy Quest, "never give up, never surrender!"