I had the honor of being part of the annual Super Saturday STEM Expo in New York City last Saturday at the Harlem Armory in Harlem, NY.  This event was presented by School Community District 5, Abyssinian Development Corporation, and Morningside Area Alliance and was designed for students and their parents to view and experience hands-on activities and demonstrations focused on Science, Technology, Engineering, and Math (STEM). There was quite a diverse mix of exhibitors, from students showing off their science fair projects (dissecting pigs, planting, robotics) to Google and hospitals. There were hundreds of parents and kids walking around, playing, asking questions and just enjoying a day together learning and doing math, science, and technology.
I was there to demonstrate Sketchpad, TinkerPlots, and Fathom, because our dynamic mathematics software, particularly Sketchpad, is in a large number of the public schools in NYC, and because we work in partnership on a couple NYC STEM grants. Helping me out were Adan Gomez, a NYC public school geometry and algebra teacher who is involved in one of our Sketchpad and Fathom grants, as well as my 16-year-old daughter, Quinn. We had a small table set up with two computers, a table-top screen, and an iPad, ready for kids to come along and play with math, which they did in a fairly steady stream.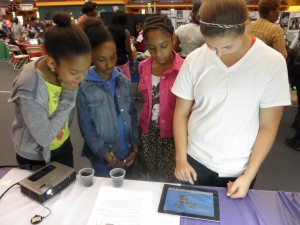 Most students were elementary and middle school age, and were so enthusiastic about everything. The Sketchpad Explorer app for the iPad was a huge hit, particularly the ability to take a picture and "fractalize" yourself, or play with a line of symmetry to see if your face was symmetric. Quinn seemed to always have an interested crowd around wanting to touch and move the math and pictures with the iPad.
What struck me most about the whole day was how much the kids that came and played at our table loved math. We hear so much about the negative attitude of students towards mathematics and learning and I saw the complete opposite—hundreds of young kids who wanted to learn math, who wanted to play and manipulate and discover, and more importantly, show what they knew about math.  It was so refreshing!
A few kids in particular stand out from the day. Alan, a 7th grader who came up to me, introduced himself, shook my hand and said, "Show me math." He and I explored shapes with Sketchpad and dinosaurs with TinkerPlots. He was fascinated by the ability to just drag something on the screen in Sketchpad and see the measures and angles change, or to drag an attribute in TinkerPlots and see a plot, and then drag the data points and test if there was a relationship, all in a matter of seconds. I really tried to embrace the 'what do you wonder' motto, and by the end of our time together a half-hour later, Alan was saying "I wonder what would happen if I did…." Alan came back later with his father, a scientist, and showed him all the things he had wondered and discovered and I think dad will be playing with both software programs at home now!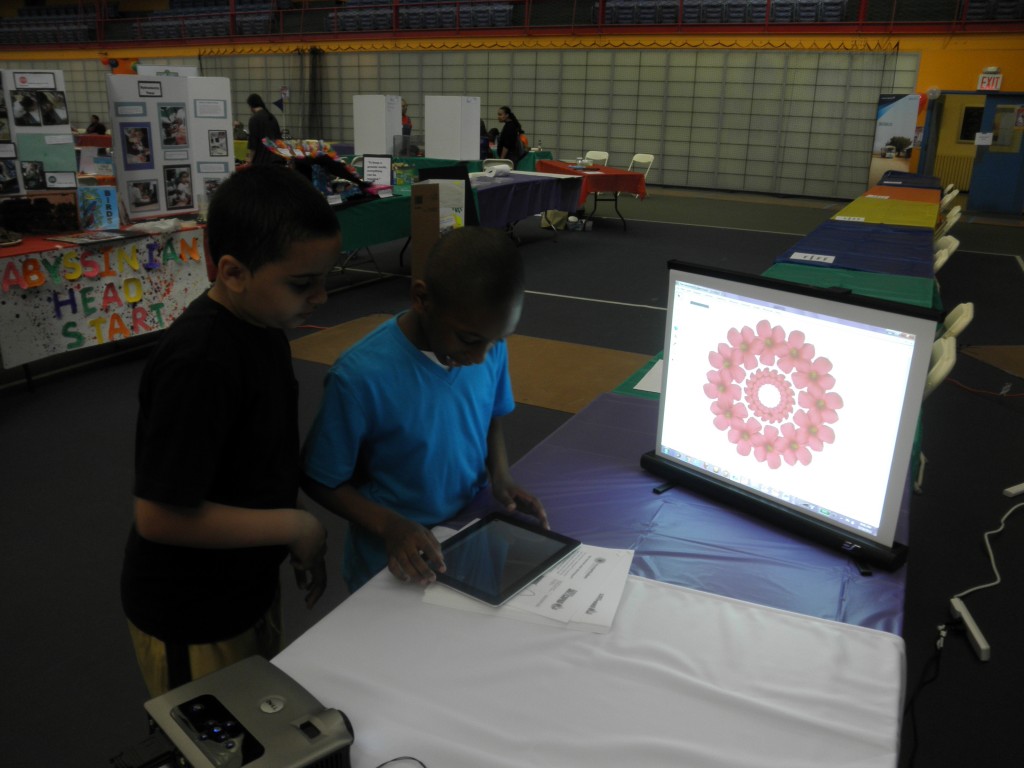 Tenisha was a 3rd grader who spent a lot of time at the table—all told, about an hour.  She wanted to explore fractions, which we did with Sketchpad. Then we moved into factoring, playing with Bugs In A Group. I tried to get her into another activity and she said to me "Can we please do more fractions?" Seriously, a 3rd grader who LOVED fractions! Her mom came up and said "Tenisha, you have been at this table too long. Let's go see something else."  To which Tenisha replied, "No mama, I want to do math."
You can't argue with that, mom!
Finally, one of my favorite kids of the day kept coming back all day long to make something new with Sketchpad or play with the iPad app or move some data on TinkerPlots. I didn't get his name but he just had a grin every time he stopped by and was busting at the seams to show me all the things he knew about math. He was in 2nd grade and we explored a real-world application of graphing and slope called Mellow Yellow, after he had seen me showing it to a middle school student and becoming fascinated. Believe it or not, he got it! He was able to explain to me what was happening in the graphs, why the lines were slanted different (speed)—understanding slope without even realizing it. This is the power of visualization, questioning, and connecting mathematics to the real-world context to the situation.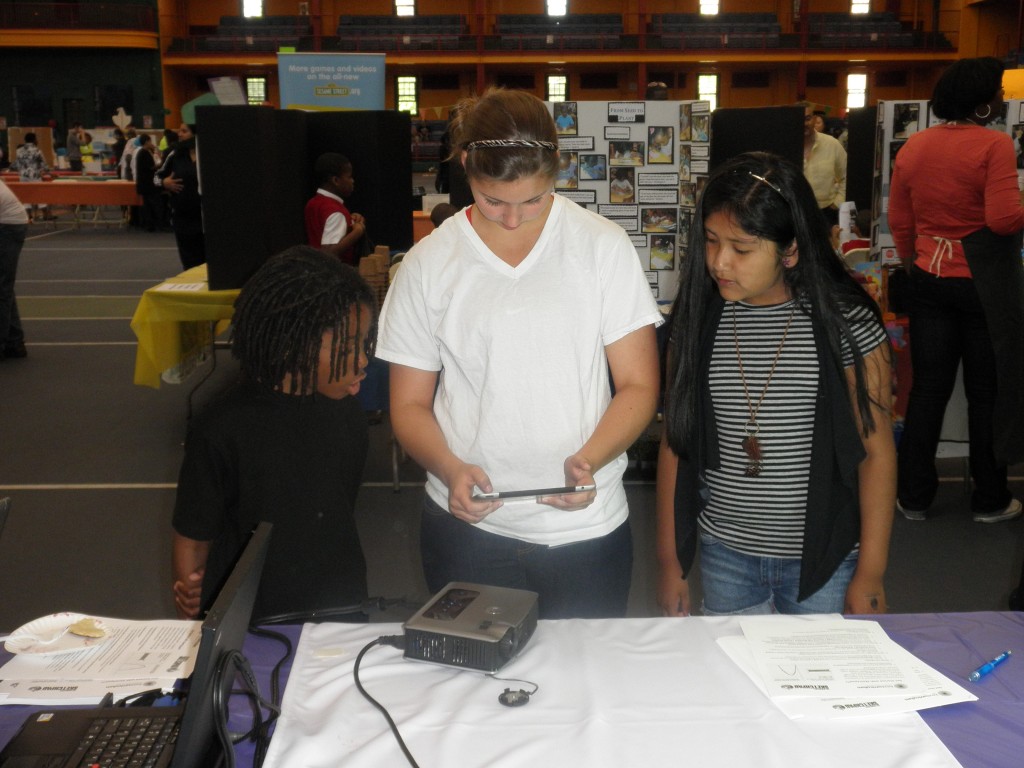 All in all, it was a fulfilling day because I was able to sit with young kids, wonder about math, and experience the joy of discovery and understanding. Plus I got to spend the day with my daughter and see her teach and have fun with young kids and math—not a daily occurrence, let me tell you!
All this leads me to the question:
What happens to these kids who clearly, at this young age, are enthusiastic about learning and playing with math, become middle school and high school students with a fear and loathing of the subject?
Maybe it has something to do with textbooks, our curriculum, testing, school culture, or possibly teachers. Something is stifling this natural curiosity and desire to want to learn math. Let's try to prevent that—let's engage them, let's keep these young minds excited and full of wonder and desire to learn about math. Ask them to wonder, to notice, let them play, touch, and explore with tools like ours. Let's keep students from falling into the math vortex of boredom and fear. If a 2nd grader can do algebra, and a 3rd grader adores fractions, then I for one want to keep that enthusiasm alive.