In a recent post, I shared a video of Conrad Wolfram's TED talk that explores how the use of computers in the teaching of mathematics leads student to a richer math learning experience. But lately, I've been wondering: Could students find a similarly rich math learning experience through the abacus, a far less expensive medium than a computer?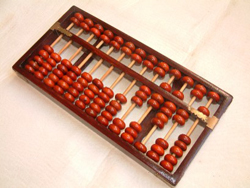 While listening to NPR over the winter break, I heard a story on how the abacus is "making a comeback." Due to a perceived easing of standards, one school brought back the use of the abacus to strengthen the students' mental math abilities. The article interviews teachers and students who extol the virtues of the abacus and the focus it brings to students as they learn.
Personally, I would love for my son (a five-year-old kindergartner) to learn how to use this ancient tool to hone his mental math abilities. Perhaps he could even develop Anzan, the ability to use a mental abacus, which is a highly revered skill that can be honed through repeated use of the abacus. I have seen one boy, Kayden, develop Anzan at the age of 6 and am amazed at how quickly the abacus became second nature to him. I know if I put the abacus in front of my son, he will be interested in it for a bit but like all other toys that don't make noise or interact with him, the novelty may soon wear off.
Do tools in this age of technology need to be computers or handheld electronic devices in order to be effective educational tools? I have read articles, like on how schools are adopting iPads; I've also visited schools that supply laptops for their students. They use these tools in their math classes for several reasons: investigations, explorations, remediation, preparation, repeated exercise, and entertainment (sadly enough, this has been come to be known as "edutainment"). But I have never seen a technology tool develop a students' mental math abilities like an abacus does.
I realize that an abacus would be limited in helping students solve the rich math problems that Wolfram demonstrated in his TED talk. I also realize that we use different tools to achieve different results. The abacus would be an appropriate tool for developing a student's mental math skills, while a computer would be an appropriate tool for exploring mounds of statistical data. A graphing calculator, meanwhile, would help students see the Big Three Representations: algebraically, graphically, and in a table.
But when the Common Core State Standards has the practice standard "Use Appropriate Tools Strategically," is there a place for the ancient abacus? Think about it while you're developing your own Anzan.