Today I leave for my first proper vacation in a year and a half. Last time I took such a vacation, Key sold its high school textbooks to Kendall Hunt and transformed from a publishing company to a educational technology company. This time I just hope to survive the end of the world. 🙂 Before I go, though, I want to tell you two recent stories in tribute to Karen Coe, who after more than 16 years leaves Key at the end of this week.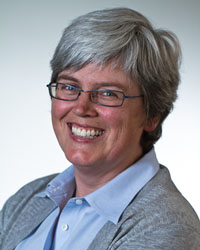 On December 1, we had our third annual Ignite event at the CMC-North Asilomar Math Conference. As usual, we had an impressive slate of speakers made up of teachers and leaders in the mathematics education community. I'll be highlighting our dear friend Jennifer North Morris in a moment, but first back to Karen, who was once again our fantastic Ignite MC.
Karen first thought of adopting the Ignite format—5-minute talks with auto-advancing slides—for the mathematics education community. Over the last three years, Key has organized many Ignite events at national NCTM and NCSM conferences, as well as the CMC conferences here in California. These events have been vibrant and upbeat, often hilarious, and sometimes emotionally powerful. Organizing the Ignite events may have began as a marketing strategy, but what has emerged is truly a legacy.
Karen leaves behind a true treasure-trove of inspirational and motivational talks that are short, fast, and poignant. In fact, we've heard that both teacher education programs and professional development organizations use many of these talks as resources.
On December 14, we threw a huge party to honor all the people who have worked at Key over its 40-year history. It was quite a rager, including a final performance by the Key to Decibels—a band comprised of people who work (or used to work) at Key that specializes in changing the lyrics of songs to make them funny and relevant to the celebration at hand. Due to the huge role Karen has played in Key's development, she ended up in many of the songs, but there is one we wrote just for her, "Sweet Karen Coe," by adapting the Neil Diamond classic "Sweet Caroline." The song continues to reverberate pleasantly in my mind.
So Sweet Karen Coe—on behalf of the mathematics education community, by the power not bestowed upon me by anyone, I hereby award you the title: Honorary Math Teacher. You've earned it, and we'll miss you.