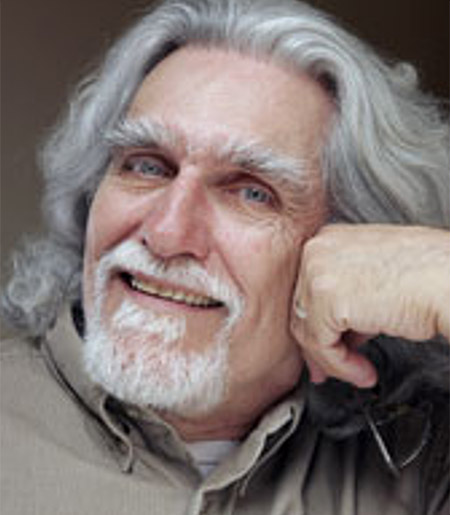 David Henderson, one of my two Cornell master's thesis advisors, died this past December. I wrote about David in a prior post, and in particular, his approach of asking us  to grapple with a small number of  rich problems, allowing us  to find our own, often non-traditional, ways of solving them over weeks at a time. In this post, I'd like to share one of David's problems that he posed to us in Math 408 in 1991. It's a lovely question, and one that I have not seen elsewhere.
Start with a quadrilateral ABCD. Create a scaled copy A'B'C'D'  so that when A'B' is placed onto side CD of the original quadrilateral, the two sides match up (see below). Repeat this process over and over again, repeatedly scaling each new quadrilateral by the same amount and stacking the quadrilaterals onto each other. Then start over, repeating the same process to build a spiral onto side AC of the original quadrilateral using a scale factor of AC/BD. Assuming that DC < AB and AC < BD, the two spirals converge in a point. Can you prove it? I recommend placing the double spiral on the complex plane and representing the transformations of quadrilateral ABCD in terms of complex number arithmetic (See the blog feedback below and James Tanton's post for a proof.)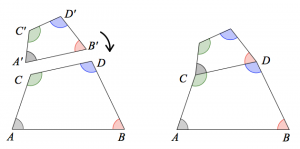 In 1991, we did not have dynamic geometry software that could easily build such a construction, so David asked us to cut out a quadrilateral and use it  to draw as much of the two spirals as we could. Below is my illustration. Can you figure out how I might have used the quadrilateral to create the spirals?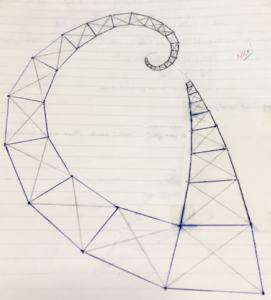 Now, 27 years later, I'm able to not only construct the spirals easily and accurately with Sketchpad, but I can also drag the vertices of ABCD to watch the spirals react dynamically. Try it below (or here) with the Web Sketchpad model.
If you are interested in reading more about David, I recommend this Cornell Chronicle obituary. And this Flickr account shows pictures of David taken throughout his life.
I'll close with a quote from David's course syllabus:
Mathematics is a way of looking at your world. Take charge of it—make it yours. Understand how you see things and see how you understand things. Mathematics can say something about you.

Think of what we are embarking on together as a stroll in the woods. I will show you paths that I have trod and point to what I have seen. I have been there many times before—but oh!—there is much more to see that I have not yet seen. You, with your unique vision, will point out to me things that I have passed by. Feel free to explore—look under stones—down in hollow stumps. You can find a rivulet of water that if followed will lead to the sea. But just as valuable are the little surprises that spark something inside—a trillium in a spot of sun—a scarlet eft wriggling under a fallen leaf. Do not hurry to "get somewhere"—linger a while—listen—see what's around where you are.
JULY 2019 UPDATE: David's double-spiral construction has been quite a hit! Mathematician James Tanton featured the spirals in his July 2019 Cool Math Essay and included a detailed proof.  He also discussed a second proof in his August 2019 Cool Math Essay. Meanwhile Suzanne von Oy extended the spiral pattern with Desmos. Be sure to also check out @jagarikin's animated spirals (one and two) and this spiral from Vincent Pantaloni that features Spiderman!